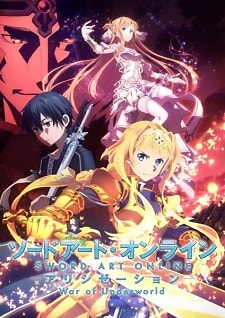 ---
---
Type : TV
Episode : 12
Status : Currently Airing
Aired : Oct 13, 2019 to ?
Producer : Aniplex, Bandai Namco Entertainment, Egg Firm, Straight Edge, Kadokawa, Sonilude
Genres : Action, Adventure, Fantasy, Game, Romance
Duration : 23 min. per ep.
---
---
Sinopsis :
Kazuto Kirigaya (Kirito) kemudian direkrut untuk membantu dalam menguji mesin FullDive eksperimental, Soul Translator (STL), yang memiliki antarmuka yang jauh lebih realistis dan kompleks daripada mesin sebelumnya yang ia mainkan untuk membantu mengembangkan kecerdasan buatan untuk Departemen Pertahanan (MOD) bernama ALICE Dia menguji STL dengan memasuki dunia maya realitas virtual yang dibuat dengan paket The Seed, bernama UnderWorld (UW).
sinopsis lebih lanjut :
Myanimelist
Cara Melewati Safelink :
Disini
---
---
LINK


---
---
Selamat Menonton dan jangan lupa kunjungi Fansub nya y ^_^ (ada disinopsis bagian Credit)