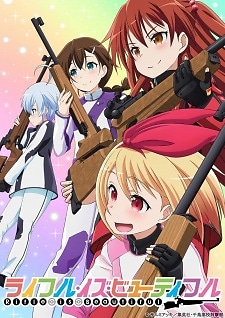 ---
---
Type : TV
Episode : 12
Status : Currently Airing
Aired : Oct 13, 2019 to ?
Producer : Unknown
Genres : Slice of Life, Comedy, School
Duration : 23 min. per ep.
---
---
Sinopsis :
Kokura Hikari adalah gadis SMA tahun pertama yang suka menembak. Ia masuk ke SMA Chidori karena di sekolah itu memiliki Klub Menembak. Namun, ternyata klub tersebut telah dibubarkan. Ia hanya punya satu hari untuk mencari anggota baru. Beruntung Hikari menemukan tiga gadis yang ia temui di sebuah kompetisi. Kegiatan sehari-hari Klub Menembak pun dimulai.
sinopsis lebih lanjut :
Myanimelist
Cara Melewati Safelink :
Disini
---
---
LINK


---
---
Selamat Menonton dan jangan lupa kunjungi Fansub nya y ^_^ (ada disinopsis bagian Credit)