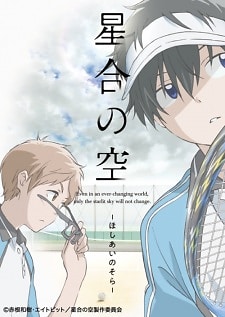 ---
---
Type : TV
Episode : 12
Status : Currently Airing
Aired : Oct 11, 2019 to ?
Producer : Magic Capsule, flying DOG
Genres : Slice of Life, Sports, Drama, School
Duration : Unknown
---
---
Sinopsis :
Cerita berpusat pada klub tenis di sebuah SMP yang terancam bubar. Untuk mencegah hal itu, Touma Shinjou meminta Maki Katsuragi untuk bergabung ke klub dan berpasangan dengannya. Ia percaya bersama dengan Katsuragi, mereka dapat memenangkan turnamen musim panas dan mencegah pembubaran klub tenis.
sinopsis lebih lanjut :
Myanimelist
Cara Melewati Safelink :
Disini
---
---
LINK


---
---
Selamat Menonton dan jangan lupa kunjungi Fansub nya y ^_^ (ada disinopsis bagian Credit)