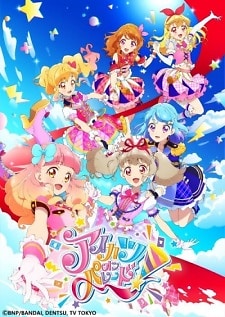 ---
---
Type : TV
Episode : Unknown
Status : Currently Airing
Aired : Oct 5, 2019 to ?
Producer : Unknown
Genres : Music, Slice of Life, School, Shoujo
Duration : 24 min.
---
---
Sinopsis :
Seri Aikatsu dengan tokoh utama adalah Kiseki Raki. Dia pindah ke Akademi Star Harmony, dan pas setelah pertama kali tampil menggunakan Aikatsu Pass yang dikasih sama kakaknya, tiba-tiba aja dia ada di sebuah tempat yang ada pintunya bersama Aine dan Mio yang saat itu menemaninya menuntun untuk bisa tampil. Melalui pintu itu dia bersama Aine dan Mio pergi ke Isekai Aikatsu seri yang lain.
sinopsis lebih lanjut :
Myanimelist
Cara Melewati Safelink :
Disini
---
---
LINK


---
---
Selamat Menonton dan jangan lupa kunjungi Fansub nya y ^_^ (ada disinopsis bagian Credit)